Welcome to ICFCE 2021
2021 International Conference on Fluid and Chemical Engineering (ICFCE 2021) will be held in Wuhan, China during October 29-30, 2021.
ICFCE 2021 is aiming to bring together innovative academics and industrial experts in the field of fluid and chemical engineering to exchange ideas, to present sophisticated research works and to discuss hot topics. The conference will be held every year to make it an ideal platform for people to share views and experiences in fluid and chemical engineering and related areas. We warmly invite you to participate in ICFCE 2021! Due to the continuing Covid-19 epidemic, ICFCE 2021 is decided to be held online. Meanwhile, after discussion of the conference committees, the conference will be postponed to be held on 19th November 2021. Apologies for any inconvenience for you.
The conference proceedings ICFCE 2021 has been published by IOP Publication: Journal of Physics: Conference Series on 15 November 2021 (Volume 2097)!
Publication
Publication in Conference Proceedings
Accepted papers will be published by
Journal of Physics: Conference Series (JPCS) (Print ISSN: 1742-6588, Online ISSN: 1742-6588), publisher: IOP Publishing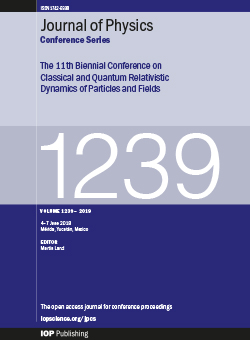 Indexed by
EI Compendex
Scopus
Inspec
other databases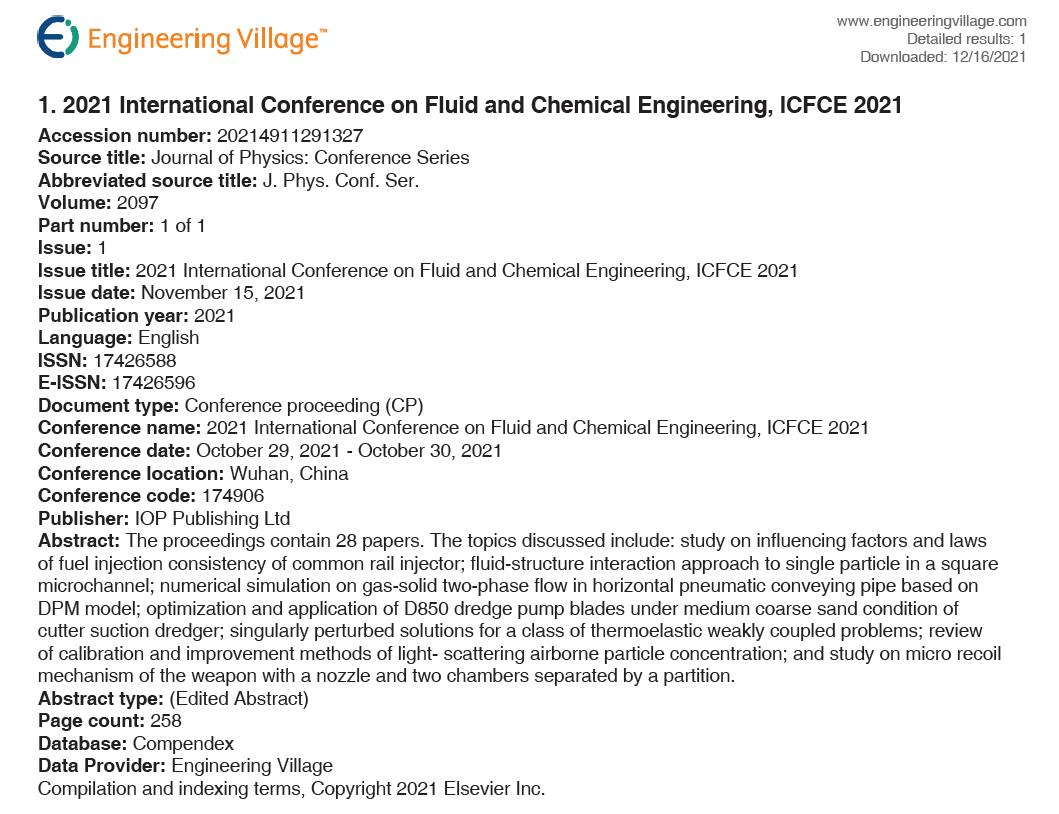 Publication Ethics Statement
The 2021 International Conference on Fluid and Chemical Engineering (ICFCE 2021) follows the highest standards of publication ethics and takes all possible procedures against any publication misconduct. This Conference is committed to maintaining high standards through a rigorous peer-review together with strict ethical policies. Any infringements of professional ethical codes, such as plagiarism, fraudulent use of data, bogus claims of authorship, should be taken very seriously by the editors with zero tolerance.
The submitted manuscript should not have been previously published in any form and must not be currently under consideration for publication elsewhere.
ICFCE 2021 guarantees that the entire peer review and publication process is meticulous and objective.
Please do not hesitate to contact us whenever you have any question.

Ms. Lei
ICFCE 2021 Organizing Committee Secretariat
Website: https://www.icfce-conf.org/
Email: academic@icfce-conf.org; icfce_conf@163.com
Tel/WeChat: 17720539778
QQ: 2358454389
Available: 9:00-17:30 (UTC+8), Monday-Friday